PLASTIC SERVICES
& EQUIPMENT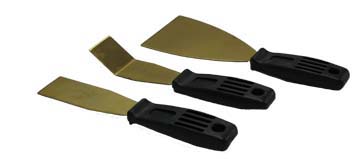 For non-corrosive scraping

Solid brass blades for non-abrasive scraping
Polypro molded handle for comfort and durability
Beveled front edges for better scraping
Non-corrosive, non-sparking, non-magnetic
Available with 1¼" or 3" straight blade or 1¼" 45° angled blade
Made in the U.S.A.
All of your cleaning needs can be purchased from PS&E

Packaging: Sold individually or as a kit.







Model BBS3

Model BBS114

Model BBS114B

PART
NO.
STYLE
BLADE
WIDTH
BLADE
LENGTH
HANDLE
LENGTH
BBS3
STRAIGHT
3"
4-1/2"

3-1/2"

BBS114
STRAIGHT
1-1/4"
3-5/8"
3-1/2"
BBS114B
45° BEND
1-1/4"
3-5/8"
3-1/2"
BBSKIT-1
Kit Includes All Three Models of Brass Scrapers
Our scrapers are brass; the use of steel blades is not recommended on molds.
PS&E brass scrapers are comparable with the following brands: Brinko, Carlisle, Dess, Diefenbacher, ElasTek, hagenbocker, hamler, Hyde, K-D Tools, Noga, proto, Red Devil, Richard, Snap-On, Stanley, Trufa, Veritas, Warner, West heat, Westward, Wirtz, Wuhu.

Your Next Barrel or Screw Is On Our Shelf...
Call Today! 800-627-1033
Home | Request A Quote | Place An Order | Product Index
Barrels & Screws | Electrical Products | Hose & Fittings | Molding Accessories
About PS&E | Terms & Conditions | Credit Application
Contact Us | Request A Catalog | Online Catalog

PLASTIC SERVICES & EQUIPMENT

Fax: 800-482-4059 | E-mail: sales@servicesforplastics.com | Address: 7925 N. Clinton St., Fort Wayne, IN 46825-3113, USA
Contact Webmaster regarding content or link problems.
Copyright 1997 - 2023. Plastic Services & Equipment. All rights reserved.