PLASTIC SERVICES
& EQUIPMENT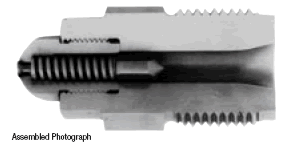 (Nozzle Body not included)
Features:
Standard 1-1/2" Length
Fits all Replaceable Tip Nozzles
7/8"-14 Thread
1/2" Rear Opening
Orifice Sizes 1/16", 1/8" or 3/16"
1/2" or 3/4" Tip Radius
Made in the U.S.A.
Minimize nozzle drool and sink patterns. Easily installed in PS&E replaceable tip type nozzles.

1/16" Orifice requires 7/32" minimum sprue bushing.
1/8" Orifice requires 9/32" minimum sprue bushing.
3/16" Orifice requires 5/16" minimum sprue bushing.
The spring loaded valve in nozzle tip restricts movement of material until activated by injection. The shutoff pin opens in the direction of the sprue bushing and closes once screw recovery has begun.

Your Next Barrel or Screw Is On Our Shelf...
Call Today! 800-627-1033
Home | Request A Quote | Place An Order | Product Index
Barrels & Screws | Electrical Products | Hose & Fittings | Molding Accessories
About PS&E | Terms & Conditions | Credit Application
Contact Us | Online Catalog

PLASTIC SERVICES & EQUIPMENT

Fax: 800-482-4059 | E-mail: sales@servicesforplastics.com | Address: 7925 N. Clinton St., Fort Wayne, IN 46825-3113, USA
Contact Webmaster regarding content or link problems.
Copyright 1997 - 2016.Plastic Services & Equipment. All rights reserved.