WHAT IS NYRACORD
®
?
NYRACORD® is a unique blend of rubber and nylon combined to produce the toughest, most durable matting available. This combination is blended to give you "the customer" the finest industrial floor matting on the market today. The manufacturer of our floor mats is the Quality Leader -with top-performing products and unparalleled service. As a true measure of quality, our supplier has achieved certification to QS-900/ISO-9001 System Requirements and IS0-4001 Environmental Management System Requirements. They are recognized worldwide for their commitment to excellence.

NYRACORD
®
WALK-EZ
WALK-EZ® is the best buy for applications desiring a premium quality, long lasting, easy to clean anti-fatigue matting. This multi-purpose mat will last up to 5 times longer than other rubber and vinyl runner mats.

Since WALK-EZ® will withstand temperatures of over 400 degrees F, it can be used in welding, grinding, or machinery areas, places where other mats may tear, melt or rot.

WALK-EZ® requires minimum maintenance as dirt, moisture, or foreign particles will fall into the concave valleys below the walking surface.
WALK-EZ
®
FEATURES
Reversible for Added Traction on Ramps or Inclines

Excellent Traction Surface Even When Wet

Easy to Clean with Broom or Sweeper

Flat Ribs offer comfortable standing surface

Knob Underside Provides Excellent Cushion for Reduced Fatigue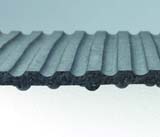 WALK-EZ
®
SPECIFICATIONS
NYRACORD
®
EZ -WALK
A heavy duty 1/2" thick smooth NYRACORD® Rubber surface bonded to a rubber/nitrile blended sponge base. The result is premium matting that withstands forklift wheeled cart traffic without tearing, creeping or loss of anti-fatigue properties. Beveled edges minimize tripping hazard.

EZ-WALK® FEATURES
Heavy Duty to withstand wheel traffic

Beveled edges to minimize tripping hazards

1/2" sponge rubber base for added comfort



EZ-WALK
®
SPECIFICATIONS
NYRACORD
®
COUNTER TRED
Grease resistant Counter Tred® is blended from NYRACORD® rubber and nitrile to provide the most durable oil resistant anti-slip matting on the market. Open slot design allows oils or solvents to flow through the mat providing a safe slip-resistant working surface. This means all foreign particles, oil or moisture to drop through the mat.

Counter Tred® matting adapts itself perfectly to use around machinery in factories and machine shops. It provides better footing where water, petroleum greases or oils cause slippery conditions.
COUNTER TRED
®
FEATURES
Estimated 10 Years of Life in an Injection molding environment

Reduces Fatigue

Heavy Duty ˝" Thick NYRACORD® Withstands Wheel traffic

Unique Ribbed Pattern for Sure Footing

Promotes Safety in Wet or Oily areas



COUNTER TREAD® SPECIFICATIONS


Click here for more information on NYRACORD® Safety Mats