PLASTIC SERVICES
& EQUIPMENT

Drool Discs

Purchase PS&E Drool Discs
An inexpensive, yet valuable tool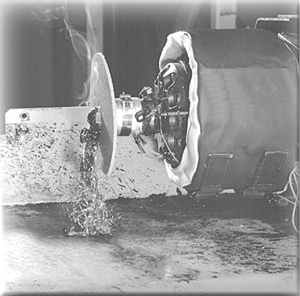 WHAT IS DROOL?

Plastic injection molding machines will sometimes leak residual molten plastic from the barrel end after the mold is opened. This residual, sometimes in sizeable quantities, is known as drool.
WHAT IS A DROOL DISC?

Drool Disc is a cost-effective device which, when positioned over the end of the nozzle of an injection molding press, deflects damaging drool away from key press components.
WHAT KIND OF DAMAGE DO DROOL DISCS PREVENT
?

By deflecting drool away from wiring, any thermal blankets and heater bands, the risk of damage to those components is eliminated. Replacing damaged heater bands alone can be costly and time-consuming. Save time and money. purchase PS&E Drool Discs today!
HOW DIFFICULT IS INSTALLATION?

Installation of Drool Discs is not difficult at all. Simply slide the Drool Disc over the nozzle end and secure in place. Installation takes just seconds with no equipment downtime or modifications. It's an easy way to save both time and money.

HOW EFFECTIVE IS DROOL DISC AT HIGH TEMPERATURES?


The modified closed-cell copolymer construction of every Drool Disc affords excellent heat resistance at temperatures up to 700

°

F.
DO DROOL DISCS HAVE TO BE SIZED FOR EACH PRESS IN MY OPERATION?

Drool Discs are available in standard 6" outer diameters to meet the needs of the majority of the injection molding machines in use today. New perforated slots allow for greater flexibility. For machines with recessed nozzle areas, custom diameter Drool Discs are available.
WHAT IS THE ECONOMIC BENEFIT OF USING DROOL DISC?

When unwanted drool escapes, the damage caused to heater bands and other key components, as well as resulting downtime from that damage, can be costly. By eliminating that risk of damage, Drool Discs save operation dollars and invaluable time.
Your Next Barrel or Screw Is On Our Shelf...
Call Today! 800-627-1033
Home | Request A Quote | Place An Order | Product Index
Barrels & Screws | Electrical Products | Hose & Fittings | Molding Accessories
About PS&E | Terms & Conditions | Credit Application
Contact Us | Online Catalog

PLASTIC SERVICES & EQUIPMENT

Fax: 800-482-4059 | E-mail: sales@servicesforplastics.com | Address: 7925 N. Clinton St., Fort Wayne, IN 46825-3113, USA
Contact Webmaster regarding content or link problems.
Copyright 1997 - 2023. Plastic Services & Equipment. All rights reserved.