PLASTIC SERVICES
& EQUIPMENT
New Screws

Built to Equal or Surpass O.E.M. Specifications

Our Commitment
We are committed to providing the plastic molding industry with quality products at the lowest prices and to extend personal, expedient customer service. We utilize our knowledge and hands-on molding experience to provide you with superior quality new and rebuilt barrels, screws and screw tip assemblies.

Product Selection
We have more than 1000 barrels and screws IN STOCK, which are available for same day shipping. We carry the most popular brands, as well as the hard-to-find ones. If you need something other than the standard sizes, we can build it for you. We have thousands of prints for all major molding machines. And if we don't have your print, we can design from your product sample.

Experience
Need assistance? Plastic Services & Equipment has been solving plastic molding problems for its customers for over 20 years. With over 150 years of hands-on molding experience, our engineering team provides all the technical support you need.

Specialty Services
In addition to building or reconditioning barrels and screws, we specialize in:
• Engineering & Troubleshooting
• Upsize / Downsize Conversions
• Thermoplastic / Thermoset Conversions
• Preventative Maintenance
• MRO Inventory Control
Delivery
With our huge selection of barrels and screws, we will likely have what you need IN STOCK. If we have it in our inventory, we will ship it the same day. If we don't have what you need, we can build it for you in very little time. And when expediting is required, we can ship your new screw or barrel in just two weeks or less.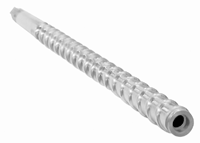 Quality Craftsmanship
At PS&E, we believe there's nothing more important than getting it right the first time! That's why our team of engineering experts does whatever it takes to design the best barrel or screw to match your application. Once the design is complete, our barrels and screws are precision built to provide you with the highest level of quality and performance possible. Each barrel and screw is then quality inspected for dimensional accuracy, straightness, and surface finishing.
Quick Quotes
To save time when requesting a quotation, you can now request a quote Online. Use our Quick Quote™ feature and we'll expedite your request and have a price to you within 24 hours. It's convenient, quick and simple to use.
Our Guarantee
We guarantee our barrels and screws to be free of defective materials and workmanship for 90 days (industry standard). Extended life warranties are available on some materials.
The following list represents a listing of the most popular brands we offer. We have thousands of prints on all of the major molding machines in North America. Call us today for a quote on your next screw!
BLOW MOLDING

EXTRUSION

INJECTION

THERMOSET INJECTION

RUBBER

Aoki
Araham
Baker Perkins
Battenfeld
Bekum
Cincinnati
Cullom
FHB
Fischer
Frontier
Graham Engineering
Husky
Hycon
Gerosa
Hardig
Hayssen
Impco
Jomar
Kautex
Krupp
Magic
Milacron
Moretti
Nissei
NRM
Parker
Rocheleau
Sidel
Sterling
Techne
Teng Chin
Uniloy

Akron
Al-be
American Leistritz
Baker Perkins (APV)
Barmag
Battenfeld
Beloit
Berlyn
Bernex
Berstorff
Betol
Billion
Boston Matthews
Brabender
Brabor
Brampton
Bucher
Century Extrusion
Cincinnati Milacron
Conair
Coperion
Cosomoplast
Crowne
Custom
Davis Standard
Deltaplast
Dong Shin
Egan
Entwistle
Farrel
Gatto
Gloucester
Hansen
Hardig
HPM
Ikegar
Johnson
JSW (Japan Steel Works)
Killion
Krauss Maffei
Leistritz
LMP Impianti
McNeil
Maplan American
Maris
Merritt Davis
NRM
Prism
Prodex
Rainville
Reifenhauser
Rocheleau
Royle
Sacmi
Sterling
Theysohn
Toshiba
Uniloy
Wayne
Welex
Welding Engineers
Werner & Pfleiderer
Arburg
Autojector
Battenfeld
Beloit
Bernex
Bipel
Boston Matthews
Boy
Bucher
Chaun Lih Fa
Chen Hsong
Cincinnati
Cincinnati ACT
Cincinnati Roboshot
Cincinnati Vista
Cincinnati Vista Sentry
Demag
Desma
Dima
Dong Shin
Egan
Engel
Farrel
Fellows
Ferromatik
Fortune
Fu Chun Shin
Gloenco
Gloucester
Gluco
Goldstar
Haitian
Hemscheidt
Hettinga
HPM
Hull
Husky
Illinois Precision
Impco
Jaco
Johns
Jomar
JSW
Kawaguchi
Kenplas
Klockner Ferromatik
Klockner Windsor
Krauss-Maffei
Kuasy
Lester
Lombard
Maplan
Martinand
McNeil
Meiki
Metalmec
Mini-jector
MIR
Mitsubishi
Moslo
Multiplas
Natco
Negri Bossi
Netstal
New Britain
Newbury
Niigata
Nissei
Nissin
Pentaject
Presma
Promax
Pyramid
Rabit
Reed Prentice
Rutil
Sandretto
Seiko
Shinwa Seiki
Sodick
Stokes
Stork
Stubbe
Sumitomo
Tien Fa
TMC
Toshiba
Toyo
Triulzi
Trubor
Trueblood
UBE
Van Dorn
Van Dorn / Demag
Vistar
Wabash MPI
Welltec
Whittman
Willert
Windsor
YCI - Supermax
Bipel
Bucher
New Britain
AMF
Arburg
Battenfeld
Boy
Desma
Dieffenbacher
Engel
Gluco
Klockner
Krupp
Maplan
Meiki
Milacron
MIR
Nissei
REP
Rutil
Wabash
• • • • •
For price quotation and delivery, click on the Quotation Request Form link below and complete the following form, or give us a call with the machine make and basic dimensions of the screw (overall length, flighted length, outside diameter, etc.). In most cases we can have a quote to you within hours. (We have drawings on most feedscrews.)


Your Next Barrel or Screw Is On Our Shelf...
Call Today! 800-627-1033
Home | Request A Quote | Place An Order | Product Index
Barrels & Screws | Electrical Products | Hose & Fittings | Molding Accessories
About PS&E | Terms & Conditions | Credit Application
Contact Us | Online Catalog

PLASTIC SERVICES & EQUIPMENT

Fax: 800-482-4059 | E-mail: sales@servicesforplastics.com | Address: 7925 N. Clinton St., Fort Wayne, IN 46825-3113, USA
Contact Webmaster regarding content or link problems.
Copyright 1997 - 2023. Plastic Services & Equipment. All rights reserved.