Our Commitment
We are committed to providing the plastic molding industry with quality products at the lowest prices and to extend personal, expedient customer service. We utilize our knowledge and hands-on molding experience to provide you with superior quality new and rebuilt barrels, screws and screw tip assemblies.

Product Selection
We have more than 1000 barrels and screws IN STOCK, which are available for same day shipping. We carry the most popular brands, as well as the hard-to-find ones. If you need something other than the standard sizes, we can build it for you. We have thousands of prints for all major molding machines. And if we don't have your print, we can design from your product sample.

Experience
Need assistance? PS&E has been solving plastic molding problems for its customers for over 20 years. With over 150 years of hands-on molding experience, our engineering team provides all the technical support you need.

Specialty Services
In addition to building or reconditioning barrels and screws, we specialize in:
• Engineering & Troubleshooting
• Upsize / Downsize Conversions
• Thermoplastic / Thermoset Conversions
• Preventative Maintenance
• MRO Inventory Control
Delivery
With our huge selection of barrels and screws, we will likely have what you need IN STOCK. If we have it in our inventory, we will ship it the same day. If we don't have what you need, we can build it for you in very little time. And when expediting is required, we can ship your new screw or barrel in just two weeks or less.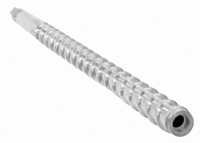 Quality Craftsmanship
At PS&E, we believe there's nothing more important than getting it right the first time! That's why our team of engineering experts does whatever it takes to design the best barrel or screw to match your application. Once the design is complete, our barrels and screws are precision built to provide you with the highest level of quality and performance possible. Each barrel and screw is then quality inspected for dimensional accuracy, straightness, and surface finishing.
Quick Quotes
To save time when requesting a quotation, you can now request a quote Online. Use our Quick Quote™ feature and we'll expedite your request and have a price to you within 24 hours. It's convenient, quick and simple to use.

We guarantee our barrels and screws to be free of defective materials and workmanship for 90 days (industry standard). Extended life warranties are also available on some materials.
The following list represents a listing of the most popular brands we offer. We have thousands of prints on all of the major molding machines in North America. E-mail us today for a quote on your next barrel!