PLASTIC SERVICES
& EQUIPMENT
Barrel Materials
Built to Equal or Surpass O.E.M. Specifications

---

• For Injection, Extrusion, Thermoset and Blow Molding Applications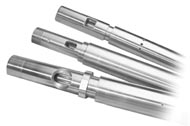 MATERIAL OPTIONS:

D-2 Tool Steel - Our most popular D-2 Tool Steel sleeve has been very successful in most molding applications including moderate concentrations of glass or mineral filled materials. One of the most wear resistant of the conventional tool steels, it is alloyed with 12% chromium and 1% vanadium which form very hard carbides. This high percentage of chromium gives it mild corrosion resisting properties in the hardened condition. D-2 Tool Steel is thru-hardened to maximize its wear life.

CPM®-10V Tool Steel - Crucible's CPM®-10V Tool Steel has proven itself for most difficult molding applications such as continuous use of glass, mineral, ceramic, calcium, and metal filled plastic materials. This extremely wear resistant tool steel is manufactured by the particle metallurgy process which makes it possible to alloy a high percentage (9.75%) of vanadium, which forms the hardest of the tool steel carbides.

CPM®-15V™ Tool Steel - Crucible's CPM®-15V™ Tool Steel is the newest in the family of high vanadium, highly abrasion resistant CPM® tool steels. It contains more hard vanadium carbides (14.5%) in its microstructure than CPM®-10V, to provide even higher wear resistance. CPM®-15V™ is intended for applications requiring exceptional wear resistance and where CPM®-10V is successful, but even longer life is desired.

CPM®-420V Stainless Steel - Crucible's CPM®-420V is a new stainless steel tool steel best suited for corrosion resistant applications. CPM®-420V is a higher performance upgrade for CPM®-440V. Corrosion resistance is significantly better than CPM®-440V, and wear resistance is about 25-50% better, due to the higher vanadium carbide content of CPM®-420V (9% vanadium vs. 5.5-6% in CPM®-440V).

---
• For Injection, Extrusion, Thermoset and Blow Molding Applications
MATERIAL OPTIONS:
777 Super Wear Bi-metallic - Our super wear-resistant bi-metallic liner is a high tungsten-carbide content alloy with a matrix of a chromium-boron-nickel alloy. Tungsten carbide provides the primary wear resistance with the high chromium boride-content matrix alloy providing additional wear and corrosion resistance. 777 has a macro hardness of Rockwell C62-68; however, over 80% volume of this alloy is occupied by tungsten carbides and chromium borides which show a micro hardness of over DPH 4000 (over Rc 70). It is the highest wear- and corrosion-resistant alloy available for bi-metallic barrels. 777 is recommended for use where extremely abrasive and moderately corrosive conditions are encountered, or in custom shops where a machine is used to process several different kinds of material.
666 Standard Bi-metallic - Our standard wear resistant bi-metallic liner is a nickel-boron-based iron with a high hardness, martensitic structure in cementite matrix. It has excellent abrasion resistance and a low friction coefficient (0.07) for prevention of screw galling. It provides a service life of at least four times that of nitrided barrels, and a hardness range of Rockwell C58-65 (70°F). Recommended for use when abrasive materials are being processed.

555 Corrosion-Resistant Bi-metallic - Our corrosion-resistant bi-metallic liner is a cobalt-nickel based alloy with high chromium and boron content for excellent corrosion resistance against hydrochloric and other acids. It has a dual-phase microstructure with complex borides that provide excellent wear resistance: over 10 times the service life of nitrided barrels in severely corrosive atmospheres. It has a typical hardness range of Rockwell C50-55. Recommended for use where severe corrosive conditions are encountered.

Durocast™ Alloy (with 5-Year Wear Warranty) - WEXCO's New Durocast™ lining material for bi-metallic cylinders offers the highest degree of wear and corrosion resistance. It is recommended for the toughest and most demanding injection and extrusion processes. Durocast™ is a solid spherical tungsten-carbide combined with a chromium-boron-nickel matrix. The spherical tungsten carbide provides outstanding primary wear resistance allowing for a micro hardness of over DPH 4000 (too hard for Rockwell C scale measurement.) The chromium boride, along with the high chrome content, further enhances wear and corrosion resistance. The high density of solid spherical carbides makes the new WEXCO lining material the best choice for longest-lasting performance.

Durocast™-lined bi-metallic barrels are warranted against excessive wear: For a period of 5 years from date sold, WEXCO guarantees that Durocast™ barrels will not wear more than .010" [0.25 mm] (total) on the bore diameter. Call us for details on Wexco's exclusive 5-year limited warranty offer.


Your Next Barrel or Screw Is On Our Shelf...
Call Today! 800-627-1033
Home | Request A Quote | Place An Order | Product Index
Barrels & Screws | Electrical Products | Hose & Fittings | Molding Accessories
About PS&E | Terms & Conditions | Credit Application
Contact Us | Online Catalog

PLASTIC SERVICES & EQUIPMENT

Fax: 800-482-4059 | E-mail: sales@servicesforplastics.com | Address: 7925 N. Clinton St., Fort Wayne, IN 46825-3113, USA
Contact Webmaster regarding content or link problems.
Copyright 1997 - 2023. Plastic Services & Equipment. All rights reserved.