PLASTIC SERVICES
& EQUIPMENT
Fast, precise leveling of machinery and equipment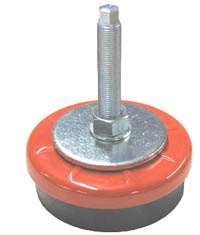 Click here for Technical Information about Machine Mounts

Easy Installation
Mounts attach quickly for original installation of equipment or when moving machinery from one place to another. No drilling, cementing or bolting machines to the floor. Just attach the mount, adjust the leveling bolt and tighten.

Vibration Control
The dampening effect of our machine mounts provides up to 80% reduction in transmitted vibrations.

Precise Leveling
The precision fit between the leveling plate and the rugged base leaves no room for horizontal sway. Horizontal forces and vibration are transmitted directly to the shock absorbing rubber sole.

Meet OSHA Anchoring Requirements
The neoprene rubber sole provides excellent friction against creeping or walking to comply with OSHA anchoring requirements.

Noise Reduction
The significant vibration reduction contributes to improved working conditions in surrounding areas. Reduction of noise at critical dB levels can, in some instances, permit compliance with OSHA noise level standards in a most economical manner.

Rapid, Economical Machinery Location
Because equipment mounted on machine mounts is "off the floor" and easy to pick up and move, significant savings in both time and money can be achieved when machinery is relocated. Re-leveling is easy.
---
Simple Installation:

Lift machine and slide mount into position.
Put leveling bolt through hole in base of machine and thread into mount. Lower machine.
Level machine by turning leveling bolt. (Turning the bolt will raise or lower the leveling plate.)
Put on washer and lock nut. Tighten.

---




PS&E Machine Mounts are comparable with most major brands of machine/leveling mounts including:

Advanced Vibration
Airloc
Bilz
Boteco
Bushings
Egana
Elesa
Fabcel

Fabreeka
Gamm
Ganter-Griff
Kitawaga
Martin
Qontrol
Royal
S & W

Schwaderer
SDP/SI
Sigerist
Sunnex
Technodin
Unisorb
Vibro/Dynamics
Vibrostop

STANDARD-DUTY MOUNTS
HEAVY-DUTY MOUNTS
MM1M
MM2M
MM3M
MM3M-HD
MM4M
Min. to Max Load per Mount
400-1100 lbs.
825-2200 lbs.
1650-4400 lbs.
3300-8800 lbs.
6600-12,000 lbs.
Presses
Strokes/min. - 125 max.
Strokes/min. - 160 max.
Strokes/min. - 200 max.

400-500
200-400
200-300

800-1200
600-1000
400-600

1400-2400
750-1500
500-1000

3000-4000
2000-3000
1000-2000

6000-8000
4000-6000
3000-4000
Injection Machine Tonages
500 Tons
1000 Tons
3000 Tons
6000 Tons
12,000 Tons
Diameter
3.15"
1.80"
6.25"
6.25"
7.875"
Height to Top of Leveling Plate
1.50"
1.80"
2.10"
2.13"
2.20"
Leveling Adjustment
.50
.55
.60
.60
.60
Standard Leveling Bolt
M12 x 1.25 x 120
M16 x 1.5 x 120
M20 x 1.5 x 170
M20 x 1.5 x 170
M20 x 1.5 x 170
Max. Machine Base Thickness
1.50"
1.80"
2.10"
2.13"
2.20"




EXTRA LONG LEVELING BOLTS

STANDARD BOLTS

HEAVY-DUTY BOLTS
MM1M Bolts
MM2M Bolts
MM3M Bolts
MM4M Bolts
MM3M HD Bolts
MM4M HD Bolts
Dimensions
M12 x 8"
M16 x 8"
M20 x 8"
M20 x 8"
M20 x 10"
M20 x 10"
Click Here for Technical Information about Machine Mounts.

Your Next Barrel or Screw Is On Our Shelf...
Call Today! 800-627-1033
Home | Request A Quote | Place An Order | Product Index
Barrels & Screws | Electrical Products | Hose & Fittings | Molding Accessories
About PS&E | Terms & Conditions | Credit Application
Contact Us | Request A Catalog | Online Catalog

PLASTIC SERVICES & EQUIPMENT

Fax: 800-482-4059 | E-mail: sales@servicesforplastics.com | Address: 7925 N. Clinton St., Fort Wayne, IN 46825-3113, USA
Contact Webmaster regarding content or link problems.
Copyright 1997 - 2023. Plastic Services & Equipment. All rights reserved.