Insulated Dryer Hose
IDH Series
For use when heat loss is a problem.

Inner Core Duct: 2-ply Silicone/Fiberglass
Outer Duct: Black Neoprene
Insulation: 1" thick Fiberglass between inner and outer duct, fortified with an extra wrap or urethane foam. If space is a concern, ½" insulation is also available by special order.
Temperature Range: -65°F to +500°F
Colors: Available in Black Only
Sizes: Available from 1½" to 6" I.D.
Packaging: Sold by the 12' section only.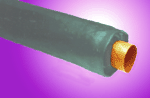 PS&E hose is compatible with the following brands: Accuflex, Ace, Armstrong, BDI, delafield, Durodyne, Eaton, Flexcraft, gates, Goodyear, HMD/Thermoid, Jackson Industries, Kord, Kuriyama, Lab Industrial, Lincoln, Nova Flex, NRP Jones, Parker, Parker-Hannifin, Powertrack, Riverbend, Salem-Republic, Senior Flexonics, Swan Hose, TCH, Thermoid, Tifco, Tift, Titan industries, US Hose, Willcox.